2RAW4FM-SKOOLZ OUT FOREVER
1.INTRO-ORIGIX FT.P-DOG "THE TURNTABLE BULLY"
2.VALID FT.PHAT KAT-WHUT UP DOE
3.MR.FURIOUS,D.C.ORIGIX,BENNY BARRZ,DAGDA & TONE SMITH-DOWNRIVER PARTY
4.HATCH FT.KING CROOKED & ASTRAY-UNTIL IM GONE
5.YOUNG WICKED FT.RITTZ & JAMIE MADROX-STILL I RISE
6.TY FARRIS-CAN I KICK IT
7.U.G.A FT.ORIGIX-REMEMBER
8.ASTRAY FT.JELLY ROLL-COMING TO YOU
9.GOZZA-CHRONIC & KEGS
10.THE R.O.C FT.REDD,WHITNEY PAYTON & R.A.THE RUGGED MAN- SLEEPER CELL
11.SIXX DIGIT-YOU CANT TAKE ME DOWN  (2RAW4FM EXCLUSIVE)
12.NAMETAG ALEXANDER-CLIMB
13.SEVEN THE GENERAL-700
14.SWIGZ FT.SOUTHWEST GROWN-DAY DREAMER
15.KPZ N Z-DIESEL-BACK IN THE DAY
16.JP ONE- MOMENT OF TRUTH
17.FATT FATHER-TOO HARD
18.BENNY BARRZ-WHISPER IN THE WIND
19.J-BONE FT.ORIGIX & HOSTILE THE GRINCH
20.G-MO SKEE FT.D12-WHEN WORLDS COLLIDE
21.PHAT KAT & DJ DISTER-REVOLT FOR CHANGE
THE ZONE RADIO-2RAW4FM w/Origix & D.C. #SUMMERSKOOL
1.INTRO
2.ASTRAY FT.CROOKED I -THE GODS
3.NEP JENINGS & JP ONE FT.PIERRE ANTHONY-WELCOME TO THE D
4.BOOTLEG-I'M EVERYWHERE
5.SUN-MONSTER
6.UGA-TRYING
7.LZ FT.RITTZ-CANT SIT WITH US
8.KPZ FT. ORIGIX & SEVEN THE GENERAL-SHELL TOES
9.SEVEN THE GENERAL-4 THE LOW
10.AZTEK FT.JAKE KNEW,CANCER,FOULMOUTH,STRANGA,SPIT THE SUPREME BEING,METASYONS.DAGDA & JOEY BEEPS -EIGHT HEADS IN A DUFFLE BAG
11.LEX THE HEX MASTER-BOMB ON EM
12.NAMETAG ALEXANDER FT.TY FARRIS-UNDERGROUND FUNK
13.THE REGIMENT-WAKE UP
14.ORIGIX FT. AARON TAYLOR-BE THE EXAMPLE
15.J-BONE FT. MICHAEL BLU & HALLOW-JUST RIDE (REMIX)
16.MICHAEL BLU -G.L.C.U.
17.BACKSTAB THE KINGPIN FT.MC EIHT-B.I.T.D.
18.MAJIK NINJA CREW FT.LEX THE HEX MASTER ,TWIZTID,THE ROC & BLAZE YA DEAD HOMIE-THE DOJO
19.JP ONE FT.ELZHI-JUDAS
20.STRANGA-SEEK SHELTER
21.KNOX MONEY & STEVE O FT.ASTRAY-BARCOTICS
22.FAT KILLAHZ-GET YA PAPER
23.OUTRO
THE ZONE RADIO-2RAW4FM w/Origix & D.C. #SKOOLZOUT
1.Intro
2.Dagda FT.Guilty Simpson-Sun Rise
3.V-Stylez FT.Big Gov & Rass Kass-Ode to Premo
4.Mr.Furious-There No Place Like Home & Talkn Bout The Music
5.Aaron Taylor-Throwin Shit
6.Valid FT.Pierre Anthony-New Nasty
7.Intermission 1
8. Valid-EZ2C-Live on The Zone
9.Gozza FT.Polk Frost-Zombie Walk
10.Twiztid- A Little Fucked Up
11.Seven The General- Stacks On Yo Head
12.M.B.K.FT M Eighty & Winfree.-It's The Mud
13.Bareda aka Mr.Wrong-Somethin Bout The Yak
14.2nd Intermission
15.JP One -On My Soul
16.Kovax-Sixteen Bit
17.Ill Uno FT.Neco Redd- Amazing
18.Waste Management-All Day
19.Origix-Growin Up
20.Outro
THE ZONE RADIO-2RAW4FM w/Origix & D.C.
1.Intro
2.SWIGZ Ft.Aaron Taylor-Nothin to Somethin
3.Smith & Jones Ft.Mr.Furious-Root Of The Sound
4.Blaze Ya Dead Homie-Let It Burn
5.U.G.A.-Crossroads
6.Nappy Roots Ft.Jarren Benton-No Idea
7.B-Side Ft.Aztek, Dagda, Foul Mouth-Burial
8.Waste Management Ft.Mr.Chief-Big Kids
9.A-Laz Ft.Crooked i,Rittz & LoOnyBin G – Dont Know
10.Half Time
11.Proof Ft.MC Breed-One,Two (Throw Back Track)
12.A.R.E.S.-The Real Hip Hop
13.J-Bone Ft.JayG & Ketchphraze-Tear you Out the Frame
14.Yukmouth Ft.Keak da Sneak & Stevie Joe-Gas
15.Twiztid-Breakdown
16.Seven The General- iWitness
17.Jigsaw-Iam Detroit
18.Origix & D.C.-Consequences
19.Outro
2RAW 4 FM w/Origix & D.C. Vol.11-2011
1.Intro
2.Origix & D.C. Ft.Gozza-All The Time
3.Sixx Digit-Teenage Mutant
4.Nitty Ft. Bizzare & J.F.K.-That's Me
5.Bareda aka Mr.Wrong-Hardcore
6.Swigz -One Million
7.Origix & D.C.
8.JFK-Official Flame Throwaz
9.Ketchphraze-Shut The Fuck Up!
10.Origix & D.C. Ft. Undaground Affiliate-Step it Up
11.The Dirtball Ft. Blaze Ya Dead Homie-The Paper
12.Lazarus-Drug Of Choice
13.Origix & D.C.
14.Metasyons – Blackman
15.Verbal Kent-Cry
16.C-Fifth-For My Hometown
17.Jaydun Ft.Prophecy 313 & 1 Of Ah Kind-Magic
18.Satur9 Ft.Origix & D.C.-We Got The Good Weed
19.Outro
2 RAW 4 FM w/Origix & D.C. Vol.10 Summer-2010
1.Intro
2.Frank Nitt ft. Kurupt & Terrace Martin-Zoned Out
3.Prophecy 313-Elevator Man
4.Progress Report – Wake Up
5.Freddie Gibbs – National Anthem (Fuck The World)
6.Jigsaw-I'm Bad
7.Origix & D.C.
8.Mongo Slade-Where Im From
9.Blaze Ya Dead Homie – Deadman Walking
10.Sway & King Tech-Wake Up Show Anthem 2010
11.Paradime-Lovely Day
12.Bizarre ft.Tech N9ne-Beliver
13.Lazlo Supreme- Fly Drexler
14.Origix & D.C.
15.Ty Jones & Seven The General-Fly Over Haters
16.Aztek -Close Your Eyes
17.Odd Couple-Make It Look Easy
18.B-Dab-Comprehensive Creatures
19.Origix & D.C.-Memory Loss
20.Outro
The Zone w/ Origix & DC -2 RAW 4 FM Fall/Winter 2009-Vol. 9
1.Intro-Origix & DC
2.Blake Erie-Six Mile Chronicles
3.B-Gozza-Bloody Turntables
4.Metasyons – Eviction Notice
5.Detroit CYDI – It's Nothin (Remix)
6.Ro Spit -Renaissance State Of Mind
7.Origix & DC
8.Black Vegaz- Rush
9.Stretch Money-Eye's on me
10.Ikkurruz-Behind Me
11.Mastatmind- Unexplainable
12.Brother Ali-Fresh Air
13.Origix & DC
14.Mongo Slade-The Hybrid
15.Keef Courage – Get Mad
16.Nametag (feat. Skyzoo)-Back On My
17.Artfull Dodgers-Remember Remix
18.Royce da 5'9 ft.Bun B & Joell Ortiz-Hood Love
19.Origix & DC-Schemin
20.Outro-Origix & DC

The Zone Radio 2 RAW 4 FM Spring-Summer 2009-Vol. 8
1.Intro-Origix & DC
2.V-Stylez Ft Royce Da 5′9, Big Pooh, Elzh, Phat Kat – Clash of the Titans
3.Moe Dirdee -You Dont Belong in Detroit
4.Waste Mgn-New Rap Era
5.Kodac-Picture That
6.Miz Korona-Like A Zoo
7.Origix & DC
8.Ajax -Long Way Down
9.Top Authority & Do or Die-Strugglin
10.ZO-Sunglasses
11.Stoopz N Breeze-Number 13
12.Stretch Money ft.Gille The Kid- Wit Out a Doubt
13.Origix & DC
14.J-Bone -My Demo
15.The Kick Drums-Just A Game
16.Rtkul8 ft.Metasyons-The Mitten Smackdown
17.The Red Hour -Thes Kings
18.Origix & DC-Static (Demo Version)
19.Outro-Origix & DC
2 Raw 4 FM VOL.7 THE WINTER MELT DOWN 09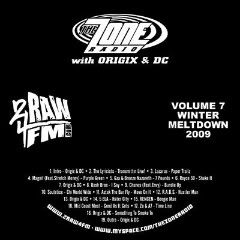 1. Intro-Origix & DC
2. The Lyricists-Transmittin Live!
3. Lazarus-Paper Trailz.
4. Magnif ft.Stretch Money-Purple Green
5. Gza & Bronze Nazareth-7 Pounds
6. Royce 59-Shake It
7. Origix & DC
8. Bash Bros-I Say
9. Chanes ft.Envy-Bundle Up
10. Soulstice-Chi World Wide
11. Aztek The Bar Fly-Move on It
12. R.A.B.S.-Hustler Man
13. Origix & DC
14. 5 ELA -Hater City
15. RENCEN-Boogie Man
16. Mid Coast Most-Good As it gets
17. Zo & A7-Time Line
18. Origix & DC-Something to Smoke to
19. Outro-Origix & DC
2 RAW 4 FM FALL 2008-VOl.6.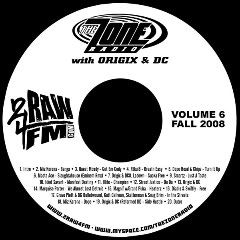 1.Intro
2.Miz Korona-Banga
3.Quest Mcody-Get em Cody
4.Rtkul8-Breath Easy
5.Dope Head & Chips-Turn it up
6.Masta Ace-Slaughtahouse-Eminem Rmx-
7.Origix & DC
8.Lodown-Sucka Free
9.Smartz-Just a Taste
10.Idiot Savant-Manifest Destiny
11.Illite-Champion
12.Street Justice-Da Da
13.Origix & DC
14.Marquise Porter-We Almost Lost Detroit
15.Magnif w/Grand Puba-Heaterz
16.Diablo & Swifty-Free
17.Grave Plott & BG Bulletwound,Kutt Calhoun,Skatterman & Snug Brim-In The Streets
18.Miz Korona-Dope
19.Origix & DC (Reformed Ill)-Side Hustle
20.Outro
2 RAW 4 FM SUMMER 2008-VOl. 5
1. Intro-Origix & DC
2. Buff 1-Beat The Speaker Up
3. Tech N9ne-Everybody Move
4. Danny Brown w/ Chips & Marv Won Gun in Ya Mouth
5. Invincible w/Wordsworth & Indeed -Keep Goin
6. Past Due w/ Ketchpharze -Pop Quiz
7. Origix & DC
8. LA The Darkman w/ Willie the Kid- I Been Around
9. The Regiment w/ Miz Korona-Humble Arrogance
10. Kid Cudi-Dat New"New"
11. Paradime-Walk
12. Wayneeack X-Mix A Drink
13. Origix & DC
14. Artfull Dodgers-Tight Vibe
15. Leaf Erikson -I Hate Work
16. Black Lagoon-Fever
17. Name Tag-Red Alert
18. Mekka Don- Kick In The Door
19. Origix & DC (Reformed Ill)-Feel Deez
20. Outro-Origix & DC–
2 RAW 4 FM April/May 2008-Vol.4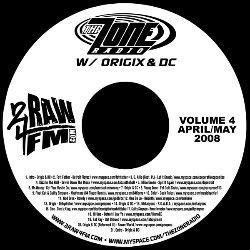 1. Intro-Origix & DC
2. Fatt Father–Detroit Playaz
3. D.Allie w/ PL-Let It Knock
4. Kidz In The Hall-Drivin Down The Block
5. Mike Green-Spit It Again
6. Mr.Wrong-Get Your Hustle On
7. Origix & DC
8. Young Zone-Fat Gold Chain
9. Phat Kat & Guilty Simpson-Nightmare (84 Tigers Remix)
10.Chief –Cash Rules
11.God Bros-Rowdy
12.One Be Lo-Rebirth
13.Origix –Dehydrator
14.Origix & DC
15.Metasyons-R.O.A.R.A.
16.Dice-Dice Iz King
17. Guilty Simpson-Home Invazion
18. Ill Uno-Detroit I Luv ya
19.Fat Ray–Get Blowed
20. Origix & DC (Reformed Ill)-Sewer World
21. Outro-Origix & DC
Download Stream Mp3
Download Winrar Mp3 Tracks
2 RAW 4 FM /March 2008-Vol. 3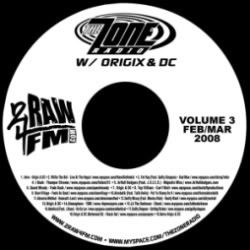 1. Intro-Origix & DC
2. Willie the Kid-Live at the Regal
3. Fat Ray w/ Guilty Simpson –Bad Man
4. I-Dash-Thumper Chrome
5. Artfull Dodgers w/ J.U.I.C.E.-Majestic Mics
6. Quest Mcody-Fade Back
7. Origix & DC
8. Top Villianz-Can't Wait
9. Slum Village-Feels So Good
10.Akrobatik w/ Talib Kwile-Put ya stamp on it
11.Abrasive Method-Knomad's Land
12.Swifty Mcvay w/Monica Blair-Really Want
13.Origix & DC
14.Atmosphere-YGM
15.LA The Darkman-Check
16.Idenitcal w/ J.Rose-On da Luv
17.Guilty Simpson-Getting Riches
18.Origix & DC (Reformed Ill)-Check Out
19.Outro-Origix & DC
Download Stream Mp3
Download Winrar Mp3 Tracks
2 RAW 4 FM Jan/Feb 2008-Vol. 2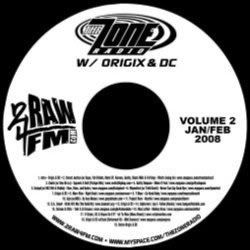 1. Intro-Origix & DC
2. Street Justice w/ Supa Emcee, Marv Won, Fatt Father, Mark EP, Miz Korona, Guilty Simpson, Black Milk & Fat Ray –What's Going On
3. Dante w/ One Be Lo-Squawk & Roll (Fixtape Mix)
4. Guilty Simpson-Make It Fast
5. Kulayd w/ MC Eiht and Diablo-Raw, Blow, and Hydro
6. Rhymefest w/ Talib Kweil-Never Can Say Good Bye
7. Origix & DC
8. Marv Won –Right Back
9. T-Mazz-Go Head Baby
10. Ajax w/A.B.K.
11. Project Born-Hustlin
12. D.A. Smart-Walk Wit Me (The Rebirth)
13. Origix & DC
14. Alpha-bet / Jay-Z- Fallen (Remix)
15. Octane & Illite-Talk a Lil Grease
16. Mac Lethal-Mallory Knox
17. V-Stylez, OC & Royce Da 5'9"- 1st To Rise (Moss Remix)
18. Origix & DC (Reformed Ill) – Midi Connect
19. Outro-Origix & DC
Download Stream Mp3
Download Winrar Mp3 Tracks
2 RAW 4 FM -12-07 -Vol. 1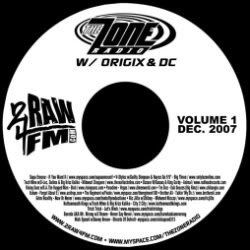 1.Intro-Origix & DC
2.Supa Emcee-If you want it-
3.V-Stylez w/Guilty Simpson & Royce Da 5'9″-Big Three
4.Tech N9ne w/D-Loc, Dalima & Big Krizz Kaliko -Midwest Choppers
5.Bizzare W/Razaaq & King Gordy -Animal
6.Origix & DC
7.Rising Sunz w/R.A.The Rugged Man-Bluh
8.Paradime-Vegas
9.Tre Sinz -Dub Deuces (Big Rimz)
8.Esham-Forgot about E
10.The Regiment w/Finale
11.Brother Ali -Talkin'my Sh.t
12.Grim Reality-Now or Never
13.Ric Jilla w/Chiboy
14.Origix & DC
15.Kottonmouth Kings w/Tech N9ne & Big Krizz Kaliko-City 2 City
16.Trick Trick-Let's Work
17.Bareda AKA Mr. Wrong w/L'Renee
18.Nick Speed w/Danny Brown-Streets of Detroit
19.Outro-Origix & DC