Archive for the 'Origix & D.C Press' Category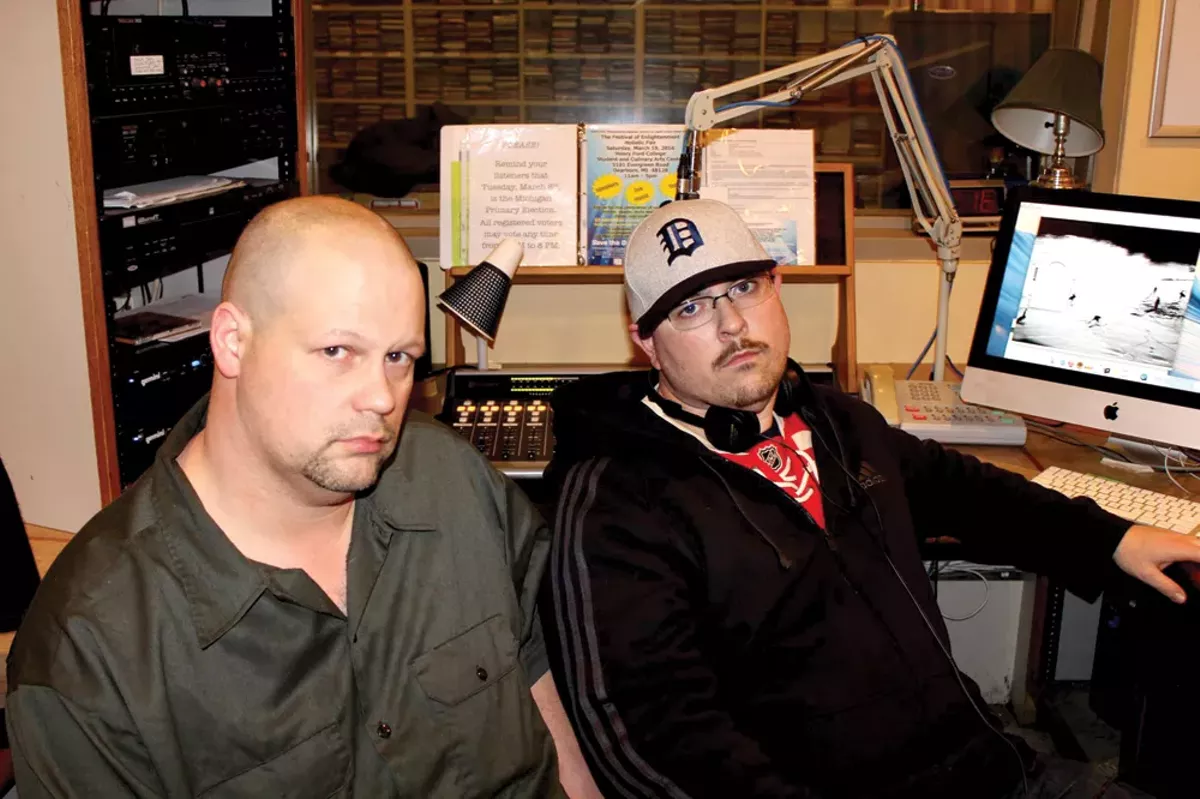 Metro Times first interviewed Origix and D.C. at WHFR 89.3 back in 2003. At the time, they were two years into their commitment to play the best, non-commercial hip-hop being made. Fast forward a dozen years, and the two have grown, alongside both their time slot and their audience. We spoke with Origix via email.
Metro Times: I know you're an emcee as well. What made you initially want to do a radio format?
Origix:
Well, growing up, I always made homemade cassette mixtapes of hip-hop I liked and would pass them out to whoever I knew that was not up on the same music I was into. Then, as time went on, we started making our own music. I heard a radio show one night hosted by a guy by the name of Joe P on 89.3 FM WHFR. He was playing local and other kinds of hip-hop. So initially, the idea was get a hold of him and see if he would play our music, and he did.
I figured, if they'd play our stuff, maybe we could get a show somehow, and then we could play all the artists we knew or knew of. D.C. was going to Henry Ford College at the time and found out what it took to get in the radio program class. We both enrolled and did whatever it took to get accepted to get a time slot on air. That's basically how 'The Zone' was created. Our first show aired April 20, 2002.
MT: How has the show changed, and how have your views changed, since the show started?
Origix: Back in 2002, college radio was still really grassroots and played a major part in an artist's development. We went from a two-hour show at first to being given a four-hour slot, which we did for about 10 years before switching back to a two-hour slot. Back in those days, the show was one of this city's only platforms to expose and break artists before the Internet really got big with podcasting, YouTube, and SoundCloud. We had many exclusive interviews on our show, and since commercial radio still barely played independent artists, we became that voice on FM radio for the listeners.
You used to have to really put in work to break a record. Now, I see so many not even putting in half the effort. Radio used to be a strong voice for artists, and now you can do so much on your own that radio does not become every artist's necessity.
MT: Who all is the show?
Origix: The Zone Radio is Origix and D.C. (Shawn Featherston and Tim Patterson) on 89.3 WHFR.FM Dearborn/Detroit. We broadcast on the campus of Henry Ford College.
MT: What is your most popular segment?
Origix: We occasionally have artists perform live in studio, which always goes over really well. I would also say when DJs come in and spin live, it's very popular with our listeners. One show that stands out to me was when, in the days after Proof died, Trick Trick declined many interviews. He came on our show to express his feelings. That was a deep and heartfelt interview. Other moments I can recall are winning broadcast awards in several categories for the MAEB [Michigan Association of Educational Broadcasting] as well as awards from DetroitRap.com and the University of Detroit Mercy.
MT: Have you ever "broken" any new artists? What artists were you playing before they became popular?
Origix: Yes. In Detroit and nationally, we've broken many: J Dilla Records, Obie Trice, Guilty Simpson, Black Milk, Esham, Proof, Twiztid, Danny Brown, Apollo Brown, Bizarre, King Gordy, Nick Speed, Royce da 5'9″ are the Detroit artists. One major artist we put the city on was Tech N9ne. We played and had him on so many times before the industry knew about Tech, and other artists such as Yelawolf, Kid Cudi, the Kottonmouth Kings, J.Cole, Rittz, Killer Mike, Freddie Gibbs all have went on to have very successful carriers.
MT: Have you ever had any offers to take the show to another radio station?
Origix: Yes we have had a handful of Internet stations make the ask. But far as urban FM radio — no, these radio stations would never let us have the freedom to play what we want. If I was able to do the show on Shade 45 or something like WDET, I would be glad to move it back to a weekly format.
MT: How much material is submitted to you by artists?
Origix: We used to get more music in the past than I could ever count. Every artist who was really trying to do something with their music made it a point to make radio edits that we could play. Now, only the real hardest-working people make sure they have music that radio can play. We can't play what they don't send, but with all these Internet outlets, a lot of folks don't think they need clean music anymore. In my opinion, cats have gotten lazy. We for sure get a lot of new music each month — that's why each month my playlist is fresh and new, but 75 percent is now all serviced and sent by email, not as a physical product.
MT: How has social media impacted your show?
Origix: The Zone was around long before MySpace, so I have really seen the rise and decline of music using social media. The good things have been the ability to connect directly with listeners and fans that live outside our range. With mobile devices being able to stream almost anywhere, it certainly helps people find us. To me, it's done more harm than good, since everyone with a computer can now set up a so-called radio show; it's really taking away from what legit FM shows do with actual DJs.
Social media has changed the way we do our show, which is one of the reasons The Zone is now a monthly show on first Saturdays. We can play all the hottest music in a month and then, after it airs, archive it, and have it available for playback throughout the month. Our show is like a live on-air mixtape with interviews. Unfortunately, so many artists make music now and want to get it out ASAP with little promo. They just post it on YouTube, Facebook, or whatever and don't really plan on how to use all avenues of marketing, especially here in Detroit.
MT: What are your views toward Detroit hip-hop today as compared to when you first started?
Origix: Detroit was just starting to discover our sound 15 years ago, and the cats coming out the underground were not fully accepted across the nation. We've made a name on the hip-hop map; we used to have only a couple of artists that were noticed outside the city limit. We have found an identity, and there are certain sounds that you hear, and say, "That's some Detroit music." We now have rappers and producers who are respected by many genres across the world. We have created a culture here where you better take what we do seriously, and we will do it with or without the industry.
The Zone Radio broadcasts on 89.3 WHFR and on WHFR.fm Dearborn/Detroit the first Saturday of every month, from 10 p.m.- midnight.
Faygoluver.net Review of Origix & D.C. "Vacation Dayz"
REVIEW FOR YOUR SELF
Faygoluver.net Review of Origix & D.C. "Work Experience"
After Eight Years, Origix &Â  D.C. are Still in The Zone (October 29 2010)
The Mirror News
By Imani Harris
Origix and D.C. co-host of one of the greatest hip hop radio shows in Michigan. That's because The Zone isn't your typical show. First broadcast in 2002, The Zone is an extremely underground hip hop show that also offers great diversity within the genre.
"We're different because we play everything from gangster rap to stuff like Twisted, and other shows generally just play one type," said Origix. Another way in which they differ is that they stay extremely active within the hip hop community in Detroit and work hard to help anyone trying to help themselves.
The two met in Junior High school, sharing an infatuation with hip hop and what it stands for. From then on, the chemistry was magic. They later formed their own group, which has undergone many name changes (some they can't remember), and began making music to get their voice and opinions out. After getting the chance to hear their music on the radio—ironically, on a show on Henry Ford Community College's radio station, WHFR (89.3FM and www.whfr.fm)—they went into the field of radio broadcasting. They were looking for a change from the other outlets around the area and to help other artists like themselves.
"Generally, artists have to make their own way because there is no industry here for them to turn to," said Origix.
When asked why they chose underground over mainstream, they agreed that today's underground scene is what they considered mainstream back in the 80s and 90s. Mainstream has changed drastically; it is full of watered-down, generic, pop influence, with just enough twist to still be associated with the hip hop genre. Underground hip hop, however, has a sense of gritty and raw artistic vision that will never alter or change over time. Also, there is no platform in commercial radio for the type of show that they produce.
In April 2002 they broadcast their first live show on WHFR, and it was, not surprisingly, a success. They reached out to a following and a gang of artists who were thirsty for a change from the norm. Since then, the show has reached the top, and is still growing with the addition of their website, 2raw4fm.com, and multiple internet broadcasts.
As far as an official—or even a ball park—number of listeners, the two say that they don't know because they get new listeners every day and they do not get ratings, so there is no way to keep track of all of them. One thing they know is that they make an impact, and they get to see the results all of the time. They are the ones who actually go out on the scene and interact with the people…and get a lot of love for what they do. They, in turn, get joy from seeing how they help artists get out there; they get to see the artist from the beginning of their career to the point where they make it big.
"It is satisfying to help many artists, and to play a key role in hip hop today," said Origix.
They both said that this is a hobby, but on a serious level; it's something embedded in their hearts. When asked how, after eight years, they can keep coming back with new ideas to keep the show fresh, DC replied, "It's just something that comes naturally."
The duo also agrees that there are a lot of options in radio to get different types of music, and a lot of ways to access them as well. One way is through their official website (www.2raw4fm.com). The site is a direct connection to their internet show (also named 2raw4fm), downloads of their albums, official merchandise, contact information, and upcoming events. In fact, the two have an event on November 18 at The Lager House, where they will perform live along with Cold Men Young, Progress Report, and a few others.
Origix and DC are, arguably, two of the Midwest's greatest accomplishments and visionaries in the area of underground hip hop, and will be around for a while keeping listeners happy with the music they play and produce. So be sure to check out The Zone every Monday night, from 9:00 p.m. to midnight on WHFR, HFCC's "station making waves."
WHO'Z HOT N DA STREETZ (June,26th,2009)
The Michigan Front Page
By Moe Nitty
"ZONE RADIO: For The People, By The People"
One of the biggest reasons many new acts fail to make it far from the starting block is their lack of knowledge to take advantage of the useful resources right in front of them.  Any seasoned recording artist will tell you that making the song is the easy, but getting it heard by the masses has proven to be much more difficult than many anticipate.  But for local hip-hop/rap artists on Detroit's west side, it doesn't have to be.  Airplay, and more importantly, vast exposure for serious artists is no more than a phone call away as The Zone Radio station in Dearborn welcomes any and all dedicated hip-hop artists with the opportunity to be heard over the radio.
Two names that every local artist in Detroit needs to get real familiar with: Shawn "Origix" Featherston and Tim "DC" Patterson.  Why?  Well, for over 7 years, dating back to their first show on April 20th of 2002, Origix and DC have been and continue to be a reliable ally to Detroit's music scene.  As co-hosts of The Zone Radio, broadcasted on WHFR 89.3 fm, Origix (the station's voice) and DC (the station's deejay) have showcased local talent from Michigan & beyond, exposing independent talent worldwide across the globe.  When asked about the origin of The Zone Radio's humble start, Origix replied, "Our main reason for starting the show was to expose all the good Detroit music we came up on…on a larger scale".
Airing live every Saturday night from 8pm-12am, The Zone Radio features a new guest every week, whom they interview, play a variety of the featured artists' songs, as well as a live in-studio performance from the featured guest.  Since their start, The Zone Radio has interviewed artists such as Bizzy Bone of Bones Thugs-N-Harmony, Yukmouth, Cypress Hill, Tech N9ne, Moe Nitty, Trick Trick, Slug Of Atmosphere, Stretch Money, Black Milk, Guilty Simpson, and Psychopathic Record's Twiztid to name a few.
For those tired of hearing the same old eight songs on the radio (I know I am), each week The Zone Radio plays new and exclusive music from major artists as well as upcoming locals and Indies.  With no pre-arranged playlist and free range to play whatever they feel (as long as it's clean), requests from listeners of The Zone Radio are almost always honored.  "What local artists have to understand is, unlike the bigger stations, which will spin your song for listeners looking to hear Top 40 music (hardly paying your song any attention), our listeners tune in to hear breaking 'local' music!", states Origix.  For those listeners looking to hear the uncut version of their favorite underground song, The Zone Radio offers 2RAW4FM.com, an online radio show in an uncensored format catering to underground hip-hop from the Midwest.
The biggest excuse I hear from victims of missed opportunities is "I didn't know".  Well, that can no longer be a valid reason for not taking advantage of The Zone Radio's open door policy for dedicated hip-hop artists.  Now you know!
Feel free to submit material by mail The Zone Radio (Attn: Origix), 5101 Evergreen Rd., Dearborn, MI. 48128, at Henry Ford Community College.  To request your favorite hip-hop song, call 313-845-9676 while airing.  The Zone Radio is also streamed live every Saturday from 8pm-2am at www.whfr.com.  Also, download 2RAW4FM Vol. 8 for free at 2RAW4FM.com.  For more updates and info go to myspace.com/thezoneradio.
(You can reach Moe Nitty at myspace.com/mrmoenitty or twitter.com/moenitty)
Character Sketch (August 20, 2008)
Real Detroit Weekly
By Travis R. Wright
Origix & D.C.
Radio Warriors
Perhaps the only thing better than getting to realize one of your life goals is being able to share it with one of your best friends. Such is the case of WHFR radio personalities Origix and D.C., who not only host the most Detroit-dedicated rap show in the city, The Zone, which airs Saturday nights from 8 p.m. to midnight, but they also host and maintain 2raw4fm.com, where you can find uncut and entertainingly explicit tracks from underground Detroit and Midwest acts that you might've not yet stumbled across. "D.C. and I go way back," says Origix. "We met in junior high in Taylor — he liked hip-hop and I liked hip-hop so we started kickin' it. Eventually, we started to make music ourselves and the rest is history."
About the time they were both 16-years-old, Origix moved to Dearborn Heights and the two started to travel about and, as Origix said, find places to "get into no good," like the Gibralter Trade Center. While the two connected on rap staples like Dr. Dre, NWA, Nas and KRS-1, they also discovered the local scene at Gibralter's L.A. Disc, where they got hip to acts like Esham and Awol.
After high school, D.C. enrolled at Henry Ford Community College and started studying telecommunications. "At first, it was the basics, editing and splicing tape," notes D.C., "but when I learned they had a radio station, that's when it got exciting." Soon after, his partner in rhyme, Origix, enrolled in the same program.
Fast forward to 2002 — April 20 to be exact. "Four-twenty, that's a date we'll never forget," laughs D.C. That was the date they first went on-air and, though it was crazy and they were learning on the fly, things have been steadily rolling ever since, as Origix and D.C. have become two of Detroit's biggest supporters in the rap scene. "We know how hard it is to get your name out there, we remember what it was like before Myspace," says Origix, who is more than proud to tell me 75 percent of the music they spin during their four hour set is from our area. But they're also reaching ears far from the 313. "We got listeners on 2raw4fm.com in Australia, England, the Bahamas and Belgium," says D.C.
These local rap aficionados of the airwaves are making small splashes across the world, but their heart is, and forever will be, deeply rooted in The D. Though that's not to say they're not looking to grow. "Satellite radio is the future and that's where we'd like to be because we don't ever want to be at a station that dictates what we play," says Origix. When asked if they'd consider a move, the two were, as always, eye to eye. "If we went to another station, we'd want to somehow be involved at WHFR," Origix says, "but the whole point is to reach as many listeners as possible to support the artists in this scene." This Friday, Origix and D.C. host 2Raw4Detroit featuring Fatt Father, United States of Mind and more at PJ's Lager House.  | RDW
More: myspace.com/thezoneradio & 2raw4fm.com
The Zone 89.3 FM ( April 2007)
By The Record
"I started making rap at age 13." says Origix, host of The Zone hip-hop radio show, which marked its 5th anniversary last month. "I've been listening to rap since way back. My dad was a DJ so I got all the new stuff coming out."
The Zone airs Saturday night 8 p.m. to midnight on 89.3 FM out of Henry Ford Community College. Origix and his co-host/rap partner/longtime friend, D.C. got the radio show in 2002 while D.C. was attending classes at the school. "My first thought was maybe they'll play our music,"Origix says. "And they played it. We got into radio just because we wanted to help all the people with good music. We put our stuff aside and just focused on radio. In the last year we got back to doing some recording, but our thing is really radio.
"I listened over and over to every show we've done, just picking them apart. Everyday I see something else I want to improve. People think we get paid."
"I do alot of booking and promoting, not even officially. I'll just have a group in mind put them in touch with people. I like to bring people to Michigan, and get them shows. I do a lot of music promotion, I'll send music to other DJs and radio stations. We Just try to help people." How many commercial FM DJs are trying to help? Not many.
Dope (April 18-24,2007)
Real Detroit Weekly
By Tom Matich
Between my iPod, MacBook, car stereo and MTV jams, I don't listen to the radio much these days. Not to mention the two corporate urban radio station in Detroit play the same eight songs like it was going out of style.
College radio, however, is some pretty cool shit. I once had a show , but I got too irritated with editing out the "dirty words" in rap so i stuck with playing Interpol and Pinback Records.
For the past five years, The Zone Radio on 89.3 WHFR.FM (myspace.com/thezoneradio) has been the official spot for underground hip-hop. Hosted by Origix and DC every Saturday from 8 p.m. to midnight, Zone is like the SNL of rap radio: guests, performances and airwaves flowing with that Midwest magic. How do they do it? "We did it by having a vision that the music we listen to could be heard by others, "Origix says. "We went to school, took the proper courses to get into radio". Once we got an opportunity to do a show we just started letting heads know we support local hip-hop, hit the streets and hip-hop spots hard with flyers. we never really knew that five years from now we would have built what we have so far in the hip-hop community." Origix and DC Have had tons of artists you read about in this very column. How 'bout that ?
Celebrate their Fifth Anniversary at The Bullfrog on April 19 with special guests Buff 1,Paradime, Bareda, Rhyme Asylum and many more.